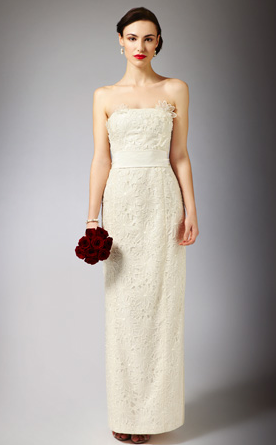 With New York's Bridal Fashion Week shows attracting more attention, and more designers, than ever before, it seems bridal fashion has never been hotter.
If you're lucky enough to be planning to tie the knot this year, the latest collections showcased at NY Bridal Fashion Week were brimming with fresh new bridal fashion ideas for your big day.
With Britney, Sienna Miller and Carey Mulligan all tying the knot in 2012, and rumours that Natalie Portman will too, it's not just the catwalks that will provide brides-to-be with wedding fashion inspiration this year either.
So whether you're looking for the perfect bridal gown, or the ideal bridesmaid dress, we've taken a look at the key trends to look forward to for your own special celebration.
Lovely in Lace
Call it the Kate Middleton effect, but there was a very definite emphasis on classic lace for this season. Collection after collection featured lace creations, veils, lace bodices and shrugs, all very much inspired by the fairytale royal wedding, and Sarah Burton's renowned gown for McQueen.
Wedding boutiques and high street stores are already brimming with Kate-inspired lace dresses that offer a far more affordable take on this essential brideswear trend. This gorgeous gown from the latest Coast brides and bridesmaid dresses collection sums the look up perfectly.
Dare to go Dark
No one sets bridal fashion trends like Vera Wang, and the Hollywood A-list's go-to bridal designer caused a storm at NY Bridal Fashion Week with her latest collection. Virginal white was nowhere to be seen, as her models glided down the runways in dark, gothic black.
It's the boldest collection for 2012 by far, with Wang lightening things up just a touch with dusky rose hues and translucent nudes. The overall look was very ethereal, with layer upon layer of featherweight, sheer fabric keeping the striking black aesthetic from looking too heavy. It's a bridal look that won't be to everyone's taste, but it ensured that Wang was the talk of the town once again, creating the most stunning collection of the season.
Supreme Elegance
The Fashion Week runways have seen a return to ladylike elegance this year, with designers placing a real emphasis on classic women's tailoring, and the 1950s ultra chic aesthetic. The latest Carolina Herrera brides and bridesmaid dress collection exemplifies this look perfectly. As chic as it gets, with clean lines and simple shapes, the emphasis here is on effortless elegance, a la Grace Kelly.