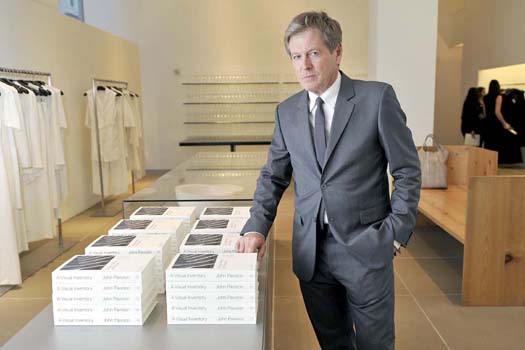 NEW YORK, Apr 5, 2012/ — Celebrating the launch of architectural designer John Pawson's new book A Visual Inventory, Calvin Klein Collection hosted an exclusive event last night at the brand's Madison Avenue flagship store in New York City.
The event was hosted by Calvin Klein Collection's Creative Directors Francisco Costa and Italo Zucchelli.
For the evening, Calvin Klein Collection wardrobed Nora Zehetner, Amanda Brooks, Zani Gugelmann, Hanneli Mustaparta and Jeisa Chiminazzo, as well as Mr. Pawson and his wife Catherine. Each of the women's looks was designed by Mr. Costa, and Mr. Pawson's look was designed by Mr. Zucchelli.
Other notables in attendance to honor Pawson's latest book included Tonne Goodman, Robbie Myers, Hal Rubenstein, Elyssa Dimant, Bonnie Morrison, Angela Westwater & David Meitus, Jann Wenner & Matt Nye, Ian & Tanya Schrager, Harold Koda, Lorenzo Martone, Amy Mellen, Kevin Carrigan and Calvin Klein, Inc.'s President & CEO, Tom Murry.
A Visual Inventory, published by Phaidon, is a selection of images chosen and annotated by Mr. Pawson from his personal archive. The book contains hundreds of snapshots taken by Pawson around the world that form a remarkable body of reference material. Each image is paired with an illuminating caption that offers a different lesson in light, material, scale, proportion, and other ideas vital to creative visual thinking.
Mr. Pawson is world-renowned for his modern, minimalist design. An exhibition of the designer's work titled, John Pawson – Plain Space, was held in the Design Museum in London last year, featuring photographs and models of some of his major projects, including the Calvin Klein Collection Madison Avenue flagship store in New York City, where this event was held.
A Visual Inventory, by John Pawson
On sale now where fine books are sold; US $49.95;
Available at the Calvin Klein Collection Madison Avenue store and phaidon.com