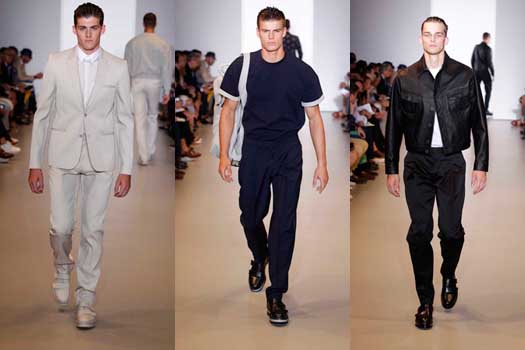 MILAN, Jun 24, 2012/ — With the box office success of "The Avengers" and "Spiderman" expected in theaters this summer, Italo Zucchelli, Men's Creative Director for Calvin Klein Collection hit the current zeitgeist of our preoccupation with heroes. And thus, "The Evolution of the American Hero", the Spring 2013 men's Calvin Klein Collection was born.
Proposing All American sportswear in new relaxed proportions with print and texture as the season's focus, Mr. Zucchelli put forward the real American hero, not the celluloid nor the Marvel comics kind.
And this decision made sense because right now, what we need is real heroes, not imaginary ones. With the U.S. recovery from the deep recession faltering and the Euro zone on the brink of collapse, what the world needs are real men and women who can deliver us from financial disaster.
Considering the fact that Italy is one of the Euro zone nations that needs to increase its exports, Mr. Zucchelli's collection takes on issues that are far beyond the runway. But, we are discussing the runway, and this is menswear; it's time for us to discuss silhouettes, fabric and colors.
For Spring 2013, expect graphically cut and uniform, focused on proportion, volume and scale. The shoulder is broad and evident on oversize, twill or denim square cut shirts; cropped and generous, lean and slim.
Iconic bomber and motorcycle style jackets, are shrunken are counter balanced with a tapered, single pleat, tab-front pant with a finely stitched pin tuck pleat or shorts. Athletic inspired nylon bombers with stitched details at cuff, collar, and placket, are lined in cool, light mesh. Modern, double-face, technical stretch jersey tops with athletic-styling and contrast colorations.
For evening, the tuxedo is elegantly relaxed and updated with a mesh lapel in buff on buff bonded wool or charcoal on black.
[MARI DAVIS]
Photos by Dan Lecca, courtesy of Calvin Klein Collection