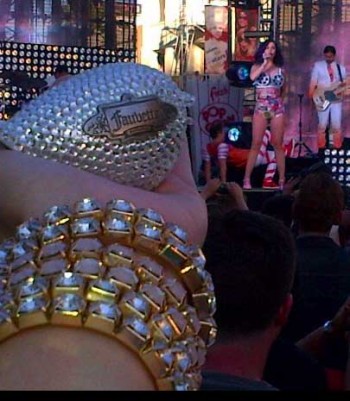 DALLAS, Nov 1, 2012/ — Spotted at the Katy Perry "Part of Me" Movie premiere in Los Angeles in June, the chicBuds Fauvette Speaker Platinum Edition is the hippest accessory around!
Adorned with metal plaques for wings and crystals to match the sparkle and shine of the Holiday Season & New Year.
Fauvette, meaning "small singing bird", is chicBuds' portable 3-inch, 2-watt speaker that packs as much sound as it does style.
Designed with chic taste in mind, the charming chicBuds Fauvette speaker produces crystal-clear sound and is compatible with the iPod, iPhone, computer or almost any listening device.
The tiny and powerful speaker can also be connected to smartphones for hands-free driving.
For added convenience and true portability, the chicBuds Fauvette Speaker comes with a rechargeable battery that lasts for 4 hours on a single charge.
Designed to sit perched on a shelf, desk or anywhere music is welcome, the chicBuds Fauvette speaker turns everyday situations into opportunities to rock out!
Modern and luxe in its design, the blinged out Platinum Edition follows black, hot pink and gold versions of the eye-pleasing chicBuds Fauvette Speaker and is sure to be a hit this holiday season and beyond!