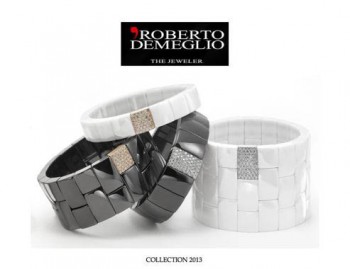 NEW YORK, Dec 18, 2012/FW/ — "Why should I make jewelry the same way my grandfather did?" jewelry designer, Roberto Demeglio told Fashion Monthly.
A third generation jewelry designer (his grandfather founded the G. Demeglio Gioielleria in 1922 in Turin) Roberto Demeglio represents a new era in the world of fine jewelry.
Shaking aside the centuries-old tradition of setting a stone on to a precious metal, Roberto Demeglio engineered a new multi-measurement system, an invisible device that enables the same ring to adapt to various fingers and the changes in temperature.
The Roberto Demeglio line gives new meaning to "customized" jewelry; spinning, bending, and twisting in ways one would never imagine possible for fine jewelry.
All pieces are crafted in the finest precious metals, ceramics, and stones; white diamonds, black diamonds, and cognac diamonds to ensure top quality