NEW YORK, Feb. 22, 2013/ FW/ — Entitled 'Back to Nature', the designer, Erin Barr was inspired for the Erin Barr Fall 2013 collection by her time spent at her family's cabin in Northern Wisconsin. Barr had utilized the landscapes and natural energy of the "Northwoods", as well as explored her surroundings in terms of texture and color to create this nature-inspired collection. Barr also used tonal values of green including forest, sage, verdigris and pine up against ice and twilight blue hues, which led the designer to delve deeper into the idea of the sensuality of nature, especially in contrast to the sensuality of the female form.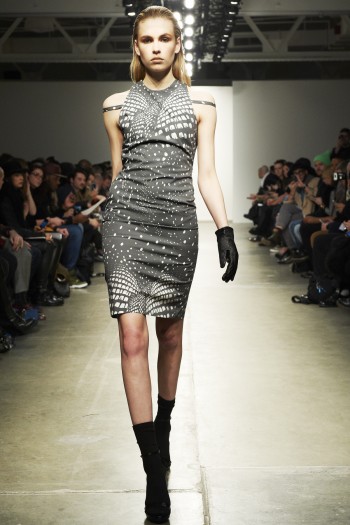 Fashion Windows catches up with the designer and Wisconsin native, Erin Barr to discuss her nature-inspired ensembles in her Fall 2013 collection.
Fashion Windows: What was the theme for your Fall 2013 collection?
Erin Barr: This season's collection theme was "Back to Nature". I wanted to focus on the energy and mood this season, borrowing from the gorgeous hues of greens, blues, and violets, and even prints found in nature. This was inspired by a trip this summer up to my parents' cabin in the Northwoods of Wisconsin.
FW: What were your favorite fabrics and hues in your Fall collection? 
EB: My favorite fabric this season was the snake-skin-printed Scuba we used on a jacket and zip-front vest. This was a new fabric for me to work with this season, and I think a new favorite! My favorite hue in the collection was probably a toss-up between that great Pine green leather and the "Ice" silk crepe dresses we sent down the runway.
FW: What is your favorite look in the collection? 
EB: I love the Black and white body-con dress with the zippers, sheer bottom, and the tiny triangle cut-out. That dress would look amazing on a lot of different people!
FW: What inspires you to design?
EB: My surroundings, the people in my life, and just that need to design! There is so much inspiration out there. I can't wait to get started on Spring '14!
FW: What is your best career advice?
EB: Get some experience first, but always follow your dreams! Work hard and it will pay off.
FW: What has been the best moment of your career thus far?
EB: Seeing the FW13 collection walk down the runway was amazing, and getting named Style.com and Elle Magazine's "Next Big Thing".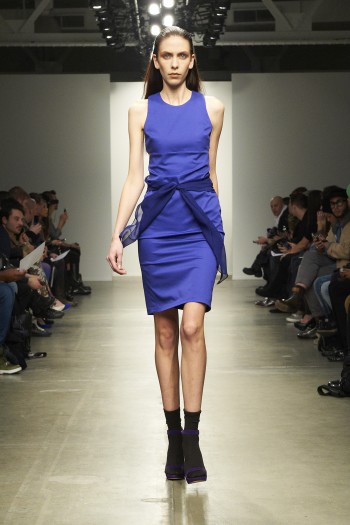 For more information about Erin Barr, please visit:
@ERIN_BARR_
#ErinBarrFW13
[DARBY RADCLIFF]
 Photos Courtesy of MAO Public Relations