DALLAS, May 8, 2013/ FW/ — Entitled 'David Helwani Discusses the Launch of his LaPina by David Helwani Collection,' the talented contemporary womenswear designer behind the luxurious t-shirt line  twenty is launching his new contemporary dress line, LaPina by David Helwani this Fall.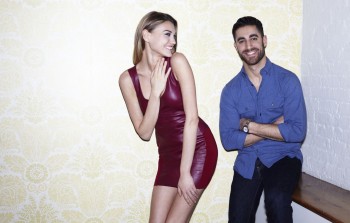 Fashion Windows catches up with the designer, David Helwani to discuss his twenty Spring 2013 collection and the launch of his LaPina by David Helwani Fall 2013 collection.
Fashion Windows: How did you first get started in fashion design? 
David Helwani : Through a long family tradition in the fashion industry. We have owned a 100% fully vertical factory for over 35 years based in Montreal, Canada.
FW: What inspires you to design? 
DH: Confident women who can pull off our finer, sometimes sheer luxe fabrications. We focus on exotic blends that are beautiful, delicate and hopefully appreciated by our following.
FW: Describe your personal style? 
DH: Casual but tailored.
FW: Who is your ultimate style icon? 
DH: Mickey Drexler.
FW: What was the inspiration for your Twenty Spring/Summer 2013 collection and your debut LaPina by David Helwani Fall 2013 collection? 
DH: twenty's Spring 2013 inspiration was rooted in texture. Since twenty offices are located on both coasts, the collection has forward, ready-to-wear styles for New York but is also infused with California's bohemian side. We wanted to make sure the collection nailed the laid back cool that we have become known for, while introducing edgy, novel fabrications completely exclusive to the twenty line.
The LaPina by David Helwani collection was inspired by a hole in the marketplace. I noticed that there was a lack of really great, sexy "going out" dresses at the advanced contemporary price point that were still fabricated with a RTW hand. We wanted to bring another level of value to the contemporary world by providing elevated fabrications and leather workings with a price point that could only be offered by us as a vertical manufacturer.
FW: What were the fabrics and hues used in both your Twenty Spring/Summer 2013 collection and LaPina by David Helwani Fall 2013 collection? 
DH: The twenty Spring 2013 line was all about pops of colors. We had some really novel neon stripes and amazing pastel linens. We continued with our luxe blends like our great cashmere jersey, our linen blends and feather touch stretch modal jersey. The LaPina by David Helwani Fall 2013 color palette focused on deep ruby tones, metallics and textured leathers.
FW: What are your favorite pieces in your Twenty Spring/Summer 2013 collection and LaPina by David Helwani launching Fall 2013? 
DH: My favorite pieces from the twenty Spring 2013 line were our linen and mesh mixed combo tees, our slub terry moto jacket, and "cool girl" sweatpants. For the LaPina by David Helwani line, my favorite dresses were the "Ursula" color blocked ponte and leather mix along with the "Suri" which is made with a great body con fabric. It was actually derived out of our swimwear division, and it will make every girl feel confident about wearing a slim fitting dress.
FW: What is your best career advice for aspiring designers?
DH: The key is to design within your capabilities and what you know. Don't try and reinvent yourself to fit into something that you do not enjoy or understand.
FW: What has been the best moment of your career thus far?
DH: The first season launch of both lines (twenty and LaPina). It's always exciting to see how a new project is received by buyers, editors and ultimately customers.
FW: Do you have anything else to add? 
DH: We just launched our www.twentytees.com e-commerce site. It looks great and really shows off how far the brand has come in 4 short years.
[DARBY RADCLIFF]
 Photos Courtesy of VPR