DALLAS, May 2, 2013/ FW/ — Entitled 'Yosi Samra Discusses his Spring 2013 Collection and his Design Aesthetic', the footwear designer, Yosi Samra launched his debut line in 2009 with a collection of versatile fold-up ballet flats that were an instant hit with their ultra-flexible design for comfort. The Yosi Samra line has now expanded to include flip flops, loafers, children's shoes, and handbags.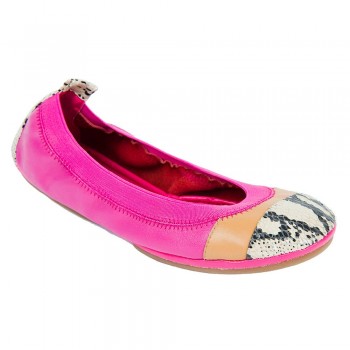 Fashion Windows catches up with the talented designer, Yosi Samra to discuss his Spring 2013 collection and his design aesthetic.
Fashion Windows: What was the inspiration for your Spring 2013 collection?
Yosi Samra: Our current collection features a light and airy palette that emulates the new beginnings and fresh glow of early Spring. Some of the images that inspired our color choices were cotton candy, balloons and emerging gardens. Think feminine pastels and florals. As the weather warms up, we'll transition to a bolder collection influenced by a tropical island getaway: swinging palm trees, waves and white sand beaches. We incorporated lots of striking colors and exotic skin prints. Finally we'll finish the Summer off with a relaxed, yet luxurious lifestyle theme of the eclectic "Chic Hippie," mixing a fresh assortment of metallics with natural textures like basketweave and cork.
FW: What were your favorite fabrics and hues in your footwear collection? 
YS: My favorite colors this season include Citron, a bright lemony-lime color that surprisingly matches with everything, Mint, a fresh, cool blue-green that looks amazing with metallics and Flamingo, a splashy coral-pink.
One of my favorite materials is our pony hair, which we updated this season in a White Leopard print. It's lighter and brighter – perfect for spring.
I am also really excited about the straw basketweave this season, a new textured neutral, and the canvas camouflage, a trend we can't get enough of.
FW: What is your favorite piece in the collection? 
YS: Our favorite new addition is the Erica T-strap, a twist on our best selling Samara Flat. This season we launched Erica with two style options: a metallic cap toe and ankle strap, or pyramid shaped square studs for an edgy touch.
FW: What inspires you to design?
YS: I do a lot of people-watching, which especially in New York can give you so many ideas. I draw inspiration from particularly stylish women I see on the street, glamorous jetsetters I come across on my travels, and of course my colleagues at the Yosi Samra showrooms.
I love seeing how people mix comfort and fashion. When you're always on the go, it's important to have the right essentials.
I am also inspired by my family and YS team, by the support they've given me and by the warmth they show. That in itself is highly motivational.
FW: What is your best career advice?
YS: Don't give up.  When things get tough, work harder.  Being in fashion is fun but behind the scenes is a full time commitment.  Work hard and stay motivated and dedicated – I think that's the best advice I can give.  As my father always told me, "if it was easy, then everyone would be doing it."
FW: What has been the best moment of your career thus far?
YS: That's a tough question. Yosi Samra has expanded so rapidly over the past couple years, I feel like something new and exciting happens every day.
But I'd have to say that seeing women all over the world wearing my flats, especially when I see them in person, is always the best. That feeling of accomplishment is there. I always make sure I introduce myself and thank the person wearing them.
FW: Do you have anything else to add? 
YS: Always stay humble. Attitude doesn't last long. Staying true to yourself as a person and being honest will last a lifetime.
Always listen to those who want to offer you advice. You may not need to take it, but it doesn't hurt to hear what that person has to say.
Give back and help others. I've always felt that what you give back to the world, it will come back to you.  Whether it's charity/donations or simply giving advice to someone else who is in need.
Lastly, I would like to add building a strong team/infrastructure with those who care about you and your brand. This has been the key to my success. Yosi Samra would not be where it is today with out the help and support of everyone working at YS. It has truly been a blessing to have so many amazing people who I now consider my family.
For more information about Yosi Samra, please visit:
@yosisamra
[DARBY RADCLIFF]
 Photos Courtesy of VPR