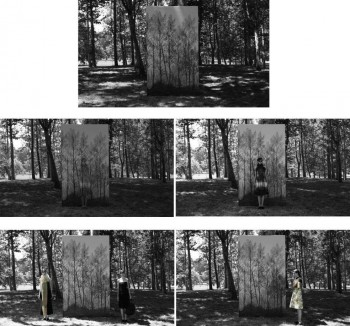 MILAN, Oct 29, 2013/ — The video THE GRAY GARDEN encases the collection's mood: austere, with a romantic edge. The collection plays with ideas of un-balanced balance: volume and flatness, severity and grace, opacity and shine.
Produced by Marni_Lab, the video is inspired by a theatre stage and unravels in a unique frame, maintaining a single set design throughout. Shot in black and white, it features only few colour ruptures. A panel with a forest print recalls the decoration of the Marni show venue and has been transferred to a sunlit park, where the real world merges with an imaginary and surreal one.
THE GRAY GARDEN, graphic yet atmospheric, is the ideal background for the collection's protagonists: the precision of the lines, the assertiveness of the cuts and the density of the surfaces.