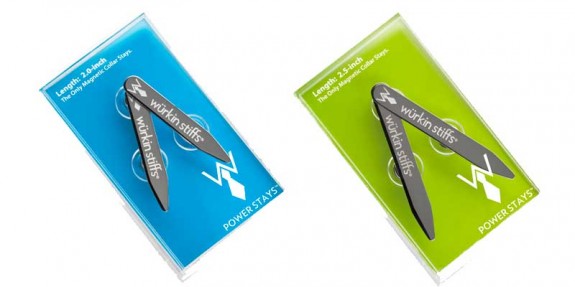 Wearing neckties, even bow ties are back en vogue; hence once again, shirt collars have to be sharp and perfect all the time. Thanks to Würkin Stiffs' Power Stays®, the only magnetic collar stays, that is now possible!
Designed to combat the 1970s' flared-collar leisure suit look, Power Stays® make collars stand up straight every time.
Founded in Sarasota, Florida, Würkin Stiffs has become a leading fashion accessories brand for the well-dressed man since its inception. The company's products function to keep men looking sharp and well-kept while providing them with fashionable options to customize their own wardrobe.
Available at fine retailers like Nordstrom, Sak's Fifth Avenue, Neiman Marcus, Harry Rosen and Bloomingdales across the United States and Canada, and online at www.wurkinstiffs.com, Würkin Stiffs product line of functional and style accessories include the patented Würkin Stiffs' Power Stays®, leather passport cover, wallets, cufflinks and travelling totes, among other.