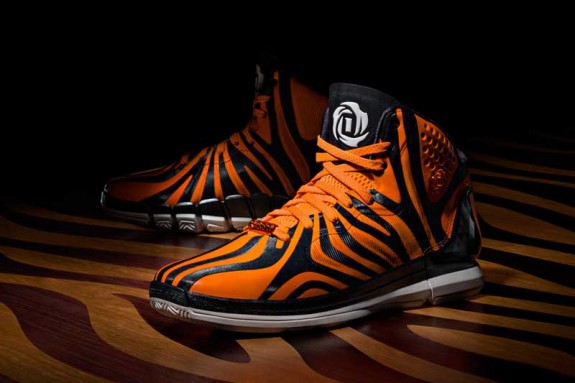 adidas today unveiled the D Rose 4.5 signature basketball shoe – the latest in a line of premium and personal signature products designed for Chicago Bulls point guard, Derrick Rose. The D Rose 4.5 features an exclusive, tailored design inspired by his unmatched natural instincts on the court. The D Rose 4.5 will launch in China on January 1 and worldwide on January 30.
D Rose 4.5 – Men's Basketball
The all-new D Rose 4.5 signature basketball shoe features a unique "hybrid skin" upper inspired by Chicago Bulls superstar Derrick Rose's aggressive, attacking style of play. Dropping in multiple colorways, each edition pays homage to a different aspect of Derrick's life with unique colors, materials and design details.
INSPIRED DESIGN
While the D Rose 4 represented Derrick's on and off-court personalities, the D Rose 4.5 design pays tribute to his attacking and relentless on-court play
The D Rose 4.5 design was inspired by Derrick's unmatched natural instincts on the court—an aggressive and explosive style of play that is unpredictable and undeterred by challenges
The D Rose 4.5 features a unique "hybrid skin" upper that was designed to meet the demands of Derrick's style of play by using a combination of mesh and synthetic materials for support, flex and control
PERSONAL DETAILS AND STYLE
The D Rose 4.5's "hybrid skin" is functional and stylish, representing the fastest and most unique animals on the planet while meeting Derrick's high standards of style
Prominent on the ankle and tongue, the D Rose 4.5 boldly showcases the D Rose logo with three petals that revolve around the letter "D" and number "1" in the center
Each colorway of the D Rose 4.5 will feature special, personal graphics on the inside of the tongue including tributes to Chicago and his family and career
The D Rose 4.5 has a special lace jewel on the bottom lace featuring the "ROSE" wordmark for added style
Three stripes branding is featured on the back of the shoe
PERFORMANCE
The D Rose 4.5 was designed to increase Derrick's speed and quickness with an upper that enhances the Crazyquick technology in the outsole
The D Rose 4.5 uses adidas' innovative technology, the Crazyquick outsole traction system, to give Derrick maximum control and flexibility for quick and agile moves on the court
SPRINTWEB technology reduces weight and provides maximum breathability
SPRINTSKIN upper enhances support on the lateral side, while the medial side works with the flex benefits of the Crazyquick outsole
SPRINTFRAME adds strength and stability and the sole features high-grade injection molded EVA to ensure the most lightweight, flexible and cushioned ride on the court
An asymmetrical engineered molded EVA collar with GEOFIT technology increases padding around the ankle and creates a more natural ergonomic fit with enhanced comfort
WEIGHT: 13 oz
SIZES: 6 – 15
SRP: $140.00