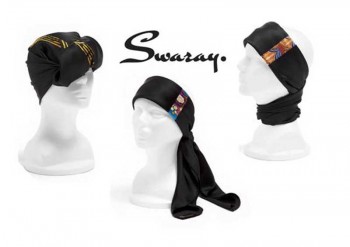 NEW YORK, Mar 22, 2014/ — Alright, you already know that Scarves by Swaray is the luxury scarf line by British songstress Estelle, whose last name happens to be Swaray.
But, did you know that scarves aren't only for chilly days? This spring, sport the latest in sophisticated style from Estelle's Scarves by Swaray collection. These scarves are an easy fix to make a fresh fashion statement.
Add a polished touch to a fresh button down and jeans with any of the collection's styles. Available in unique patterns including Classic Green Africa, Green Paisley, Malaysia Orange, and Orange Africa, these scarves are truly versatile.
Not sure how to rock your Scarves by Swaray? Don't fret! Each scarf comes with a detailed guide that teaches you how to tie them in four fashionable ways. Let your imagination run wild and accessorize with your jewelry, wrap it with your hair, or tie it around a bag.
How many ways will you tie your Scarves by Swaray? Explore all your options this Spring!