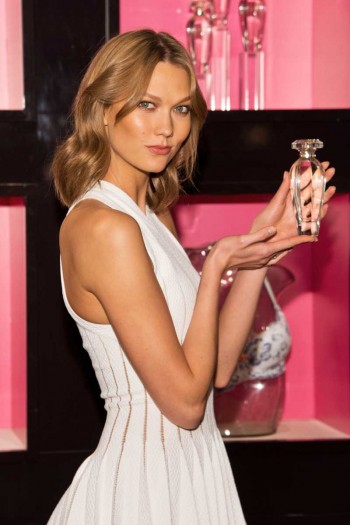 CHICAGO, Apr 29, 2014/ — Heavenly, Victoria's Secret's original angel fragrance just received a makeover! For the first time, Heavenly debuts a sleek new bottle shape and features a jeweled Angel wing charm embedded in the cap.
In Chicago today, Victoria's Secret Angel Karlie Kloss revealed the iconic fragrance's new look. It is still the same Heavenly scent that you love. With notes of White Musk, Sandalwood, Vanilla and White Peony, this gorgeous fragrance is heaven scent.
"We're giving our customer an all-new reason to love our Heavenly fragrance," said Sharen Jester Turney, president and chief executive officer of Victoria's Secret. "It's been our best-selling fragrance since it launched in 1999 and now our customer is going to covet the exquisite new bottle design just as much as the Heavenly scent inside."
The award-winning scent received the prestigious FiFi Fragrance Foundation Award for "Fragrance of the Year" in 2000. Since its debut, there have been more Heavenly Eau de Parfum bottles sold in the U.S. than any other fragrance.
The fragrance collection includes: Eau de Parfum 1 oz. / $45, Eau de Parfum 1.7 oz. / $52, Eau de Parfum 3.4 oz. / $68, Angel Mist 8.4 oz. / $25, Angel Touch Lotion, 6.7 oz. / $20, Angel Wash, 7.6 oz. / $15, and Eau de Parfum Rollerball, .23 oz / $18.
Heavenly is available in Victoria's Secret stores, online at www.VictoriasSecret.com and in catalogue today.
Victoria's Secret Heavenly: Behind the Scenes with Karlie Kloss
Miami provides the perfect backdrop to shoot the latest Victoria's Secret Heavenly campaign. Join Supermodel Karlie Kloss on location for a glimpse behind the scenes—and at the iconic fragrance's brand new bottle.