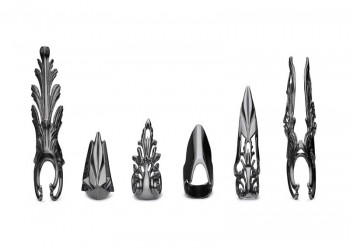 Sculptors Yunus Ascott and Eliza Higginbottom create multi award winning subversive art jewellery. Each piece is an exquisite luxury collectible and is hand made in their London studio.
Launched in 2009 to critical acclaim and a cult following, Yunus & Eliza have won BFC/ELLE Talent Launch Pad and BFC/Rock Vault sponsorship along the way. The brand is featured regularly in publications such as Vogue, Dazed, Elle and iD and is stocked globally in stores such as VFiles, Luisa Via Roma and Net-a-Porter.com. Their show stopping pieces have been worn by the likes of Madonna and Helena Christensen.
Drawing from history, fine art, the surreal and the fantastical, Yunus & Eliza signature collections are infused with old school mythological opulence and grandeur, updated and deconstructed with a futuristic aesthetic.
Imperial motifs of majestic winged creatures and epic architecture are juxtaposed with edgy silhouettes and futuristic imagery, giving the collection a metamorphic timeless quality and wholly British air of both nostalgia and rebellion.
The duo met in 2007 in one of London's last remaining foundries and started collaborating – with no intention of making jewellery – until a journalist asked to feature a small sculpture they had made in the fashion pages, and their brand was born.
With no formal jewellery training the duo are unrestricted in their process and concept. Drawing on their backgrounds in fine art and figurative sculpture, each piece is hand carved in wax – the line, silhouette and form taking prominent place.