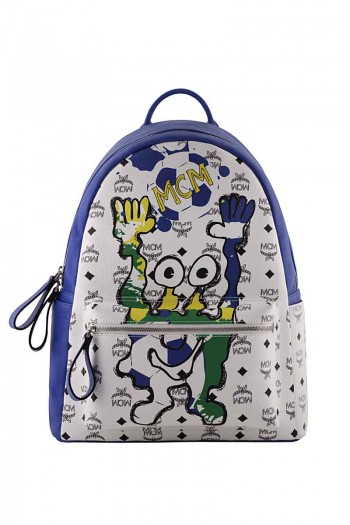 NEW YORK, May 22, 2014/ — The FIFA World Cup, the world's most exciting sporting events plays muse to the new limited edition MCM 'München Cute Monsters' collection.
Drawing on the vibrancy of Brazilian culture and the festivity of the biggest soccer tournament in the world, nineteen animated pieces were designed featuring two pop art characters, Viktor & Viktoria, as MCM's mascots for the games.
In this limited edition collection, the playful attitude of MCM takes center stage and invites soccer and fashion fans to engage in the brand's joyful celebration. Fusing Brazilian trademarks such as carnival, samba street performances, the country's legendary beaches, modern architecture and ever-present live music, the artwork on each piece reflects the jovial nature of the soccer-centric nation.
The new 'München Cute Monsters' collection consists of MCM's travel must-haves: iconic backpacks, pouches and shoppers. Small leather goods include passport wallets, zipped wallets and card wallets. With its tongue-in-cheek charm, the light-hearted monsters wittily embody the graphically charged surroundings of the World Cup, and echo the playful and dynamic vibe of MCM.
The collection retails from $475-$950 for large leather goods and $175-$385 for small leather goods and will be available in MCM flagship boutiques and selected retailers worldwide in June 2014.