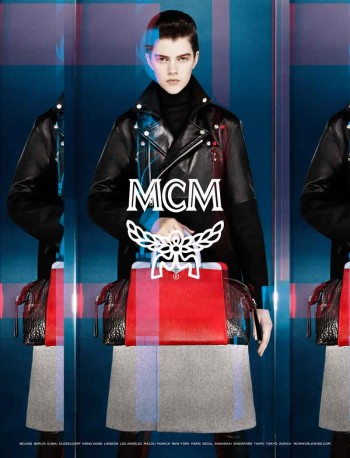 NEW YORK, Jun 19, 2014/ — With the title "Digital Soldier", the Autumn/Winter 2014 advertising campaign for European luxury purveyor MCM (Moderne Creation München) touches on the world's increasingly digital existence.
Featuring MCM's leather goods and ready-to-wear collection, the campaign and video shot by Daniel
Jackson portrays a strong and androgynous image of German model Antonia Wesseloh.
The photography is disrupted by digital glitches, finding beauty in the random distortion and misplacement of pixels. Styled by Tiina Laakonen, the campaign will appear in print, store displays and supplementary materials.
MCM's new DIGITAL SOLDIER campaign is moved by the vision of a post gender future and our increasingly digital existence. The campaign takes its cue from the artist Nam June Paik who is also known as the founder of video art.
"Skin has become inadequate in interfacing with reality. Technology has become the body's new membrane of existence."
By entering the digital sphere, MCM aims to challenge the limitations that physical reality puts on silhouettes, material and form.
The result is an over-arching communication campaign that translates into still images, a short mood video and an updated brand website design all released in global media starting August 2014.
Photography / Video: Dan Jackson
Creative Direction: PL Studio / Pietsch Lim
Styling: Tiina Laakonen
Makeup: Hannah Murray
Hair: Didier Malige
Model: Antonia Wesseloh