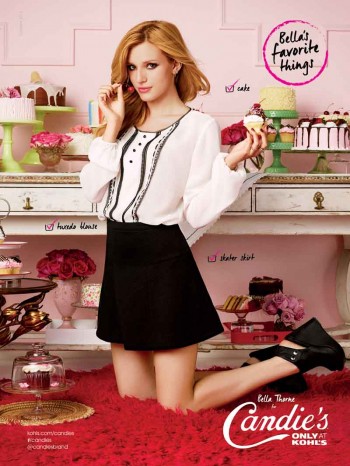 NEW YORK, Jul 21, 2014/ — Actress and musician Bella Thorne will debut her first television commercial campaign for the junior brand, Candie's, sold exclusively at Kohl's Department Stores nationwide and on Kohls.com during the TEEN CHOICE 2014 awards show which airs on August 10, 2014.
The commercials offer viewers a chance to purchase Bella's favorite styles at exclusive prices for a limited time. The campaign marks Bella's second season as the face of the Candie's brand and the second year Candie's returns as the exclusive retail apparel sponsor of TEEN CHOICE 2014.
Commenting on the campaign, Bella Thorne stated, "Shooting my first Candie's commercial was so cool and everyone was super fun to work with. The theme is my favorite things, so we had cake, hot guys, puppies, pizza and all of my top picks from the Fall Candie's collection."
Bella continued, "The commercial is airing during the Teen Choice Awards, which is the perfect time to offer my fans exclusive deals on my favorites styles!"
The television campaign will debut on Sunday, August 10 on FOX with a series of commercials throughout the award show broadcast, introducing live flash sale items including jackets, dresses and boots. Flash sale specials will be available at Kohl's nationwide and on Kohls.com, from August 10 through August 17.
In addition to the television commercial, Bella will also star in "Bella's Favorite Things" print campaign debuting in September issues of fashion and lifestyle magazines such as Seventeen and Teen Vogue, as well as online, outdoors and in Kohl's marketing vehicles.