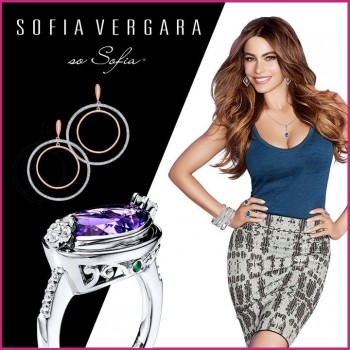 AKRON, Ohio, Aug. 15, 2014 / — Sofia Vergara continues to be a fashion brand powerhouse with the launch of SOFIA VERGARA so Sofia™ jewelry line in partnership with Kay® Jewelers.
Aptly named, the fashionable yet elegant collection embodies Sofia's playful, vibrant and sexy style with bold statement necklaces and earrings as well as shimmering bracelets. The SOFIA VERGARA so Sofia™ collection is available exclusively at select Kay® Jewelers stores and online at kay.com.
"I've loved jewelry since the day I was born," said Sofia. "I don't feel dressed without it – I never even go to sleep without jewelry on."
"It's how I express myself — my style, attitude and the way I feel. My new jewelry collection, SOFIA VERGARA so Sofia™, developed in partnership with Kay® Jewelers, reflects my love of jewelry and sense of style, and I hope it inspires women to express themselves with their own unique look that says, 'This is so me!'"
The collection includes rings, necklaces, earrings and bangle bracelets to complement every style, many set with diamonds and semi-precious gemstones, including amethyst, tanzanite and topaz. The 10K gold and sterling silver settings feature intricate details that add a feminine touch.
Each piece also includes a hidden natural emerald to symbolize Sofia's beautiful home of Colombia. In keeping with Sofia's view of jewelry as a means of self expression, the collection is designed to be perfect for a day at the office or a night on the town.
Sofia was named one of the most talented and powerful women in Hispanic entertainment by The Hollywood Reporter and Billboard Magazine. She is also the only Hispanic actress to begin her career in the U.S. Hispanic market and cross over to the general market, in which she gained and continues to maintain great popularity and influence, holding key positions on Forbes' Power Women and Celebrity 100 lists.
She can currently be seen each week in her leading role as "Gloria" in ABC's Emmy-award winning series "Modern Family," for which she has been a four-time Golden Globe, Primetime Emmy and Screen Actors Guild Awards nominee.
Sofia has also appeared in a number of feature films, including the recent "Fading Gigolo" and "Chef," with Scarlett Johansson and Robert Downey Jr., and is co-starring with Reese Witherspoon in a comedy due next spring.