#FlashbackFriday! On October 23, 2014, the K Fashion Project New York's third annual designer showcase highlighted three Korean brands: JESSI N.Y., Buckaroo Jeans and Demoo Parkchoonmoo. This season honored K Fashion's Culture Ambassador, Patricia Field.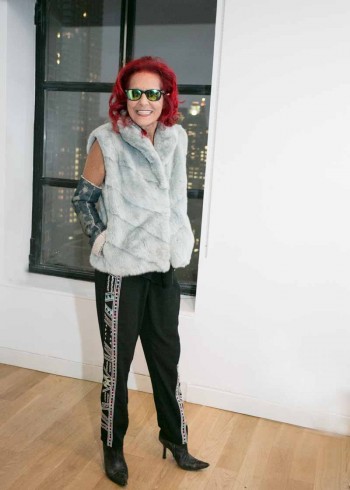 Patricia Field's involvement in The K Fashion Project stems from her visit to Seoul in June of 2012. Invited by the Korean Government, Field visited the stores of Korean designers, including Buckaroo whom she worked with on last two New York showcases.
Created by The Korea Fashion Association, The K Fashion Project is used to actively introduce Korean fashion to New York buyers and press.
DESIGNERS:
JESSI N.Y.
JESSI is a women's contemporary brand that dares to chase the new, yet landing within a spectrum of trends. Turning familiarity and cutting-edge trends into city-chic wearable styles, is JESSI's mix and match aesthetic. www.jessi.co.kr
Buckaroo Jeans
Retro Modernism, Original Denim Jeans Casual- The brand concept of retro-modernism and original denim jeans casual is mainly based on the idea of dichotomy between the modern new and the friendly old that is reminiscent of New York Jeans of the 50s and 60s. www.buckaroo.co.kr
Demoo Parkchoonmoo
Fashion designer Choonmoo Park's love of design dates back to time spent in her family's children's apparel factory and showroom. Park was always fascinated by the transformative and reflective nature of clothing. After her family moved to Seoul, Park attended Hong-IK University, where she majored in Industrial Design, followed by the Kookje Fashion School where she majored in Fashion Design. Her background in Industrial Design is evident in her clothing designs, which has defined her compelling aesthetic. Her clothes embody Korea's iconic avant-garde, architectural yet fluid style. www.demoo.co.kr
The Korea Fashion Association is a special body corporate established in 1985 under the Ministry of Knowledge Economy with the purpose to advance the Korean fashion industry with approximately 300 total fashion companies including domestic national fashion brands, fashion designer's brands, trading companies and fashion related businesses.
The Korea Fashion Association has been taking the initiative to protect the rights of its members and promote its members, and strengthen and globalize the competitiveness of the Korean fashion industry.