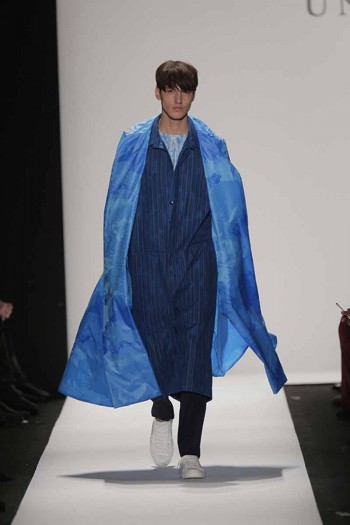 Kevin C. Smith, M.F.A. Fashion Design, is a California native who was born in Walnut Creek, grew up in Sacramento, and has a B.F.A. degree in Art Studio.
Smith created menswear designs based around the ideas of light and volume. His inspiration comes from Christo's Running Fence, a 24.5-mile-long installation art piece made by Christo and Jeanne-Claude in 1976, as well as from vintage light bulbs and candle smoke. The clothes are layered pieces comprised of sheer, flowing overcoats.
Andrea Nyberg, M.F.A. Textile Design, was born in Columbus, Ohio, and was raised in North Ridgeville, Ohio.
She holds a B.F.A. in Fashion Design and has worked with Fossil, Oshkosh B'Gosh, and DSF Clothing Company. Collaborating with Kevin for their fall 2015 menswear collection, Nyberg was inspired by non-material substances in nature, such as; smoke, condensation and dew mixed with layers of transparent stripes.
She used shades of blue wool suiting to create the more structured striped patterns, paired with grey and tonal blue organic prints for shirtings. Each silhouette includes many pieces offering playful but subtle print mixing.
The looks are highlighted with atmospheric smoke printed raincoats enshrouding the men in form and function.
Photos courtesy of Academy of Art University