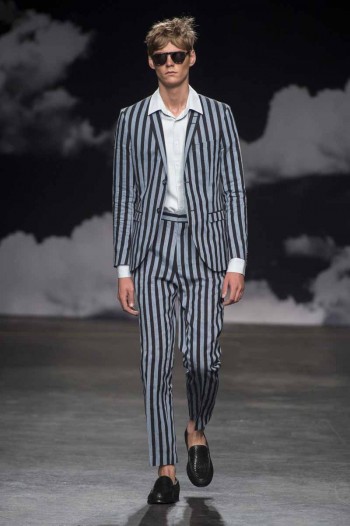 Well known for its razor cuts and slim proportions, Tiger of Sweden changes gear for Spring/Summer 2016 and takes inspiration from the Mediterranean and chooses to go for relaxed silhouettes that evokes a nonchalant attitude.
Founded in 1903, Tiger of Sweden has perfected tailoring; hence, though the silhouettes this season is loose, the cut and the tailoring remain sharp. Jackets are fits perfectly on the shoulders and the trousers hang just right on the hips. The legs are tapered as well as loose for both casual and chic feeling.
Color palette is neutral, ranging from black to grey to beige then interspersed with blue for color. With the classic black and grey as the main pieces, the rest of the collection plunges us in an atmosphere of freedom and lightness.
Photos courtesy of Tiger of Sweden