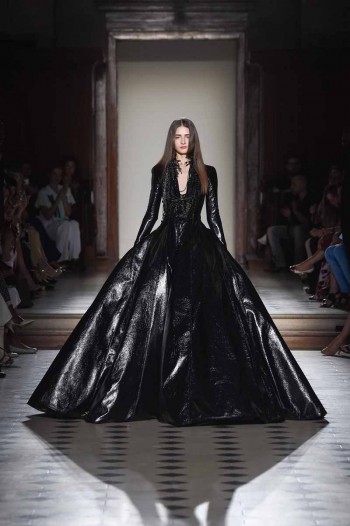 With an intriguing title "First Night", French couturier Julien Fournié proposes that fashion is magic and magic is fashion for Fall 2015.
A guru of intellectual dressing, Fournié as usual has many inspirations and Fall 2015 is not an exemption. Fascinated by the esotericism and the magnetism of Karl Freund's or Marcel L'Herbier's movies (respectively "Mad Love" and "Fantastic Night"), the French couturier portrays the female characters who favor mystery to enhance their strong personality.
"I also read Letters between Six Sisters, a selection of the Mitford sisters' private correspondence ", says Julien Fournié.
"I was fascinated by the independent thinking and the great wit of these socialites who, despite their radically different political views, were keeping stormy but enduring relationships, always ready to shine together with wonderful elegance, even in troubled times."
And from them, Julien Fournié created "First Night" which he concocted with a specific glitz. With a contained shoulder line highlighting a long neck, a marked waistline slightly rounding the hips, with backs featuring inlays and favoring sheer fabrics, the silhouettes by Julien Fournié constitute a collection that makes shades of black sing.
In this world of semblance, sleeves are often extended like gloves to cover hands to the thumb joint, "illusion" tulle partly covers the skin in a magnetic strategy of charm.
Moiré silks are often substituting velvet or crinkled vinyl on the back of tuxedos. The opening silhouettes introduce the ready-to-wear collection of the season, which will be available in stores on the day after the show (particularly at Le Printemps department store, in Paris).
These first fifteen numbers conjure up the world of magicians, notably through integrated capes at the back of a raincoat or of a little grey dress, but also in a riding-coat with integrated vest, in jackets with a detachable tail, in jumpsuits with fabulous inlays of lace or 3D brocades.
A black Art Deco skyline on a fuchsia background is featured in the season's exclusive print. Julien Fournié proposes with it a tunic a long skirt and a wide blouse with lavallière, which he also declines in a lightweight brocade of sheer black and silver.
The twenty following numbers reveal the specific witchcraft of Paris Couture. Grey or emerald silk velvet pieces are often embroidered with sequins in the same shades.
A "diamond- shaped" neckline is embellished with Art Deco geometric patterns. The work undertaken in collaboration with Sophie Halette renews the use of lace embellishments and adds depth to vulnerability through three-dimensional craftsmanship .
Drapé in fuchsia silk jersey with asymmetrical back, glittery bustiers with flaring corollas, chiffon or jersey gowns, a hooded sheath in embroidered velvet, a textile sculpture featuring a bouquet of velenous flowers hypnotize to the spectacular final dress in crinkled black vinyl.
Photos courtesy of Julien Fournié