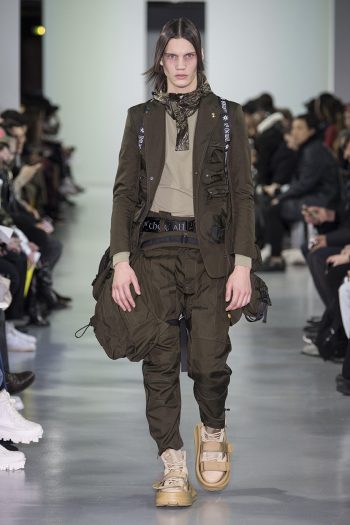 PARIS MEN'S WEEK / — Injected with a strong new technological flavor, the Sankuanz Fall-Winter 2018 collection comes packed with the signature military and utilitarian looks designer Shangguan Zhe is known for.
Focusing on innovative fabrics and engineered outerwear, the lines are drawn to express a combative allure. A comment on everyone's own personal war against what they are facing, be it a physical obstacle, the system or a daunting future.
Developing this idea of fighting for a living, the collection has been designed with very strong graphic accents, new Sankuanz logos and the Kill The Wall slogan appear on patches or as big white letters printed on terry cloth scarves and towels, while an another symbolic logo resembling a secret army blazon is used on black tops or as a pendant on silver rosary necklaces.
Stretch neoprene scuba and motocross-style tops and pants as well as hooded tops with face masks evoke the dark attire of a ninja warrior. Adding another touche of eastern cultural symbol, a special new Sankuanz crest has been adorned with bamboo leaves.
Bramble-inspired camouflage prints, designed by Zhe, sport neon touches, some finished with reflective material. With neon orange, green or yellow flashing on the prints and piping of military looks, sporty tracksuits, football shirts and running leggings, the overall collection pulses to the beats of an underground techno vibe.
An ultra-resistant and waterproof fiber is used in different weights to cut the ultralight parkas, hooded jackets and pants, their pale grey, blue or green colors shimmering slightly on the crinkled surfaces. Tailored suits are cut from a triple-layer bonded fabric with a metallic thread to achieve a heavily rumpled effect.
The looks are completed with Sankuanz signature bags, some in motifs to match the clothes and attached in front of the waist, or robust backpacks, including styles made from Cordura nylon with a removable waterproof protective layer. Multi-purpose pockets are added to pants, jackets, belts and harnesses, enhancing the combat allure, while contrasting patch pockets on military shirts and pants hit on an industrial note.
Looks are finished with hi-top suede and nylon transformable sneakers that come with extra chunky soles that can be strapped on or left off, underscoring the protective spirit of the collection.