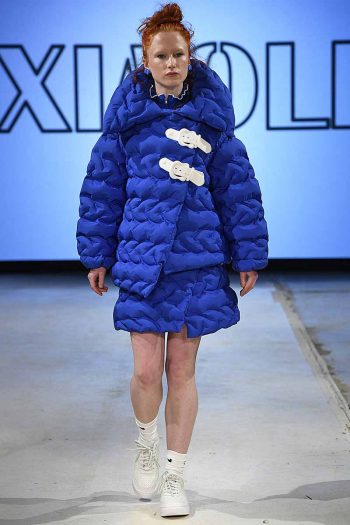 LONDON FASHION WEEK / — Key inspiration derives from the skate culture of the 70s; taking a keen look at photographer Hugh Holland's saturated, hazy colours and the unapologetic attitude of the skaters, Xiao Li looks to the way he has an art of capture the essence of the moment. Using this strong visual reference as a catalyst for the mood seen throughout this collection, Hugh Holland inspired Xiao Li to incorporate a tough femininity with sportswear elements, seen specifically in her aim to continuously push the boundaries of knitwear.
Pairing the candid spirit of teenage skaters with the flamboyant aesthetic of retro Americana, Xiao Li pays close attention to the vibrancy of Los Angeles, coming together to create something of unique design quality. Beautiful show stopping architectural pieces are clad in a luxury bespoke print, splashed with badge prints from car wash signs to skater figures resulting in a kitsch and nostalgic iconic graphic. These graphics play a key part in this collection, expressing a playful fun-loving element and are complete with wavy silicone pop colour accessories.
Adding a hint of irony, clashing symbolic class with the dream-like aura of the glowing LA road signs are paired with graphic slogans of the 'low daily rate' seen next to a tongue-in-cheek silicone diamonds. Confidence carries the wearer through this collection and the ability to pair the sharp suiting and puffer pieces together and a sense of cultural awareness engages the meaning behind the motifs. Cosy duvet dresses and coats are snuggled up against silk pyjama-style printed pastel pieces, referencing the manic pace of American culture.
Silicone is cleverly printed onto statement pastel faux fur outwear pieces; these exaggerated and dramatically feminine silhouettes are bold in structure yet soft a consistently playful colour palette, transcending from the Xiao Li brand since the debut collection. The intricate art of hand embroidering silicone crystals embellished in chunky pop colour blocks, subverting traditional luxury adornment into something novel and brash.
"The way of life and attitude of Los Angeles is really inspirational in the way that there's a place for everyone, and it is a place everyone can be accepted for who they are. It is a city full of hopes and dreams where everything seems possible." – Xiao Li
Photos by Helle Moos, courtesy of Xiao Li