The Royal Beasts are unexpectedly freed to experience the joys of life beyond The Tower walls.
As the true tale goes, widely reported in 1830, the animal warden at the Tower of London is in the process of cleaning the pens when he unwittingly raises the partition between two stalls, rather than the door of an empty stall as intended, thus allowing a Barbary lion and a Bengal tigress to meet. They set upon each other at once and a vicious battle ensues, leading to a rather tragic and unpleasant end. – THE TOWER MENAGERIE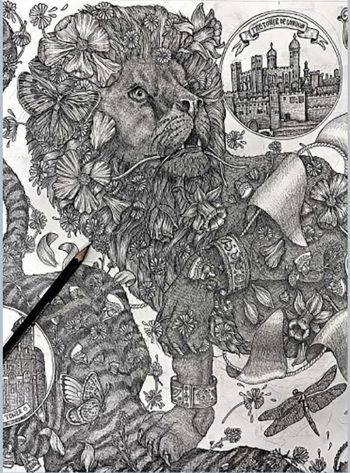 This collection is focused around the true story of The Royal Menagerie housed at The Tower of London
(1200-1835). The illustrations reference many of the astounding and unusual zoological tales recorded from The Tower, and encompass much of the history and legend of the building itself. The Crown Jewels are still housed within The Tower today. The fantastical paintings of artist Walton Ford were also a major influence, alongside the botanical illustrations of British artist Jane Loudon (1807-1858) and original posters advertising the wild and exotic beasts of The Royal Menagerie.
For Spring/Summer 2020 Sabina Savage continues her range of pure silk womenswear, refined to her most comfortable and effortless selection yet. The collection features Sabina's beautiful handdrawn placement prints, artfully placed and engineered around each garment. Each piece is printed in Italy and hand-assembled in London to the finest quality.
ABOUT SABINA SAVAGE:
Sabina Savage is a British range of luxury scarves and womenswear featuring stunning hand-drawn print designs on the finest silk, wool and cashmere. Illustrated and designed in the UK, her collectible pieces are all printed in Italy – produced to the finest quality and expertly primed and hand-edged by the renowned artisans of Como.