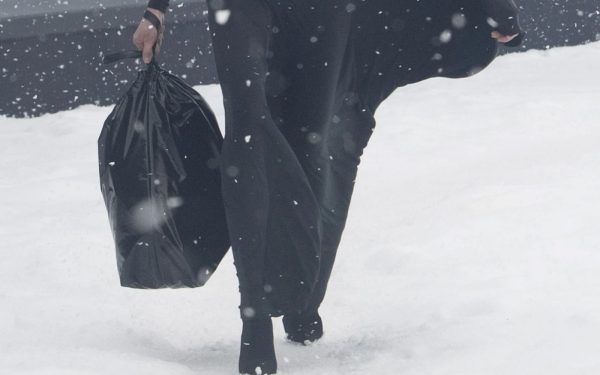 That Balenciaga has an innate, or at least obvious, propensity to troll is a given: after the debut of a bag nearly identical to the Ikea shopping bag in 2017 and the more recent destroyed sneakers, it is the turn of the trash bag presented during the show for the FW23 collection. A bag that, without going too far out on a limb, is bound to prove rather divisive.
On the one hand those who, adherent to Demna's anti-surrealist philosophy, will be willing to spend $1,790 for a bag clearly inspired by a trash bag and on the other hand those who, disgusted by the idea of shelling out such an amount for such an un-chic item, will prefer to make a criticism. To which Demna, moreover, already has a ready answer: "I could not miss the opportunity to make the most expensive garbage bag in the world. Because who doesn't love a fashion scandal?", he explained.
Leaving aside the fact that the trash bag is made of calfskin and available in 4 colors, the reason why this bag had caught our eye was something else: during its first appearance, the bag was in the hands of models and models in the middle of a snowstorm, (co)squeezed into tight-fitting dresses and black bags full of stuff. A staging that coincided with the outbreak of war in Ukraine and therefore charged with a political significance and denunciation particularly felt by Demna. Fashion, in this discourse, has been but the narrative channel for a vision as personal as it is urgent: to tell how cynical, ruthless, and no-frills reality can be. And, although frills this bag will inevitably have to do with them – we do not rule out the possibility that it might even become an it bag next season – it is its narrative that is impactful. Shifting the glossy of luxury to political and current issues with an often informal and dry tone is the stylistic exercise Balenciaga is getting us used to. Demna plays with values and is a creative director conscious of the fact that entertainment comes before product, even if unimpeachable from a design and quality standpoint. Reason why even the trash bag, however questionable as a concept, remains a luxury bag.
Courtesy of:  Bernardo Savastano