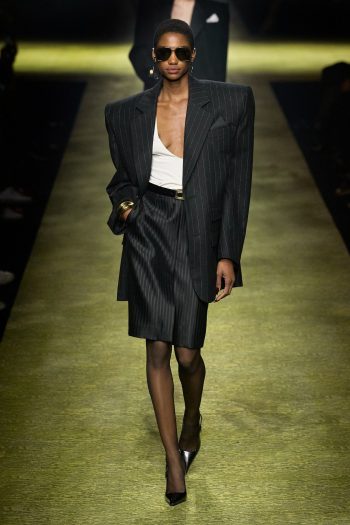 Anthony Vaccarello brought a stellar new show for his Saint Laurent to the runway, once again solidifying the new, elevated course taken by the brand. In the midst of this nocturnal, unbelievably cool world in which every man looks like a melancholic dandy and every woman the femme fatale of a noir, the "old" YSL monogram stood out as a tall sculpture – the same monogram that Vaccarello has already been reintroducing for years in the brand's best-selling categories such as handbags and shoes, and the same monogram that, rebranding aside, remains seared in the memory of the clientele whose old Yves Saint Laurent dresses or archival pieces still possess it. The decision to erect a giant logo at the entrance to the runway is not accidental, but intended to createan unmistakable reminder of the past in keeping with the role of «custodians» of a brand that «will survive all of us» which Francesca Bellettini, CEO of Saint Laurent, recently pointed out in an interview by System Magazine. Something similar happened at Dior for whose new collection, presented with a set design that was perhaps more elaborate and spectacular than the looks themselves, Maria Grazia Chiuri was inspired by the 1950s, modernizing seemingly vintage silhouettes with fabrics woven of micro-steel threads capable of adapting to the wearer's body, creating a balance between outfits inspired by the Paris of Christian Dior and modern portability and functionality. And on a day when even Anrealage's photochromic gowns looked like something out of I Love Lucy, one can't help but feel not only that contemporaneity has grown weary, but that it has also begun to make us feel uncomfortable.
Here we highlight the juxtaposition between aesthetics and profit since that glorious past has not always been synonymous with commercial success, and conversely, commercial success does not give a measure of heritage, a topic that Bellettini also touched on saying that she hoped that  "when people talk about this period in the house's history, they talk about the part it's played in the overall brand legacy, and not just about profitability."
In fact, for example, when the Gucci Group, then Kering, acquired Saint Laurent twenty-four years ago, the brand was in bad shape- the past is beautiful in photographs but gets somewhat worse when you look at it through the financial archives. And after experimenting for more than two decades with virality, change and novelty, it seems that the upper echelon of the luxury industry, the one that includes the big names in mainstream commercial fashion, has accepted that the category of "new" is now exhausted and that the category of "futuristic" has ceased to make sense since the future we see before us has absolutely nothing utopian about it, quite the contrary.