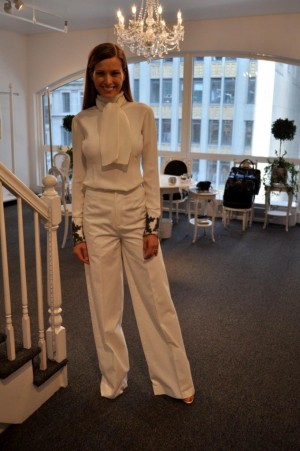 Day Three
Kirstie Alley came in for a second fitting. The grand finale diva gown fitted her perfectly after the alterations. We then had a meeting with the hair and makeup team. We discussed and agreed upon glamorous eye makeup and lacquered hair for Kirstie and the models.
The other models also came in for their second fittings. Everything had to be precise. There was no room for mistakes. I handed them their call sheets before they left.
We also finalized the seating assignments and blasted them out to the guests via a mobile phone app known as Fashion GPS.
My highlight of the day though, was when the model Petra Nemcova came to the House! Working with her was a dream. She truly is a wonderful person, inside and out. She tried on several outfits before deciding on a white-laced top with bootleg pants to match.
Oh, I felt like Rachel Zoe! Many would give an arm and a leg to dress celebrities. And here I am. A shiver went down my spine.
Day Two
This is the day before the big show and the atmosphere in our showroom and production room was
surprisingly calm.
We had KFC for dinner at 7pm. Zang is a superstitious fellow. This "Lucky Chicken Night" ritual came from 1991. It has remained because of that first mega-successful show that led to his discovery by Anna Wintour, the editor-in-chief of American Vogue.
A final pre-show meeting was called for the staff and the volunteers. Jess, our trusty Public Relations Director, assigned everybody with tasks.
I was pumped. I could feel the excitement in my veins!
Nita and I stayed late into the night. We made sure that every item of the thirty-three-piece collection was in order.
[STEVEN ONG]
[Part 1] [Part 2] [Part 3] [Part 4] [Part 5]