Aimee Phillips, the jeweler from Malaysia, was in the House. Zang designed every single piece of the jewelry that was to be used in the show. The exquisite gold bracelet, gold earrings, chokers and sapphire epaulet completely blew me away.
Later in the evening, we had a meeting with the music composer to discuss the music that would be used for the show. The soundtrack from Lawrence of Arabia was our initial choice because the theme of the show was "My dream of North Africa".
We listened to a wide variety of Arabic music and finally decided on a combination of a few songs that represented our African theme. Those irresistible sounds stayed with me all day, even permeating my dreams.
Day four
One model after another came into the showroom for fittings. Precision was important to Zang. I helped him make sure everything fit perfectly.
Next up, I liaised with Jess Teutonico, our Public Relations Director, to assign the seating for the event. Some of the celebrities expected to be in attendance were Patti Labelle, Petra Nemcova, Julie Macklowe, Jill Zarin, Romona Singer and Jamee Gregory.
Arranging the seating charts was no easy task. We had to be very mindful of the relationships and associations of our guests to avert any unnecessary uneasiness!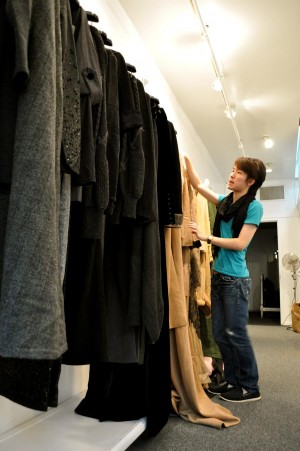 [STEVEN ONG]