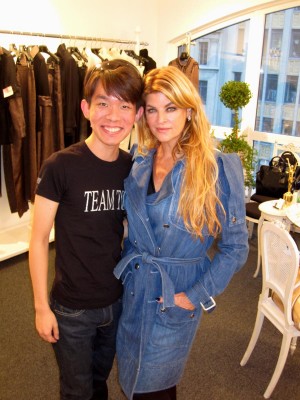 We were in the office at ten o'clock in the morning despite working late the night before. Kirstie Alley was coming to the House! I was beyond excited. I am a big fan of Cheers and Dancing With The Stars.
Kirstie has been Zang's dear friend for thirteen years and she would be taking to the runway in the grand finale outfit.
We prepped for Kirstie's arrival. This meant tidying the showroom. We hid shoeboxes behind the staircase, tossed out trash and moved furniture around. Entertainment Tonight would be filming a 2part exclusive series of Kirstie and her first-ever runway show.
An hour before she arrived, we found ourselves in front of the mirror, brushing our hair and re-touching our makeup. Everyone was trying to look his or her best.
When we heard the familiar laughter, we knew Ms. Alley was in the building. She is exactly the same person you see on television! She is funny, smart, positive and she looked better than ever!
The fitting went well. The custom-made, one-of-a-kind Sapphire-beaded opera gown looked stunning on Kirstie. There was no doubt in our minds that she would rock the runway.
[STEVEN ONG]
[Part 1] [Part 2] [Part 3] [Part 4] [Part 5]