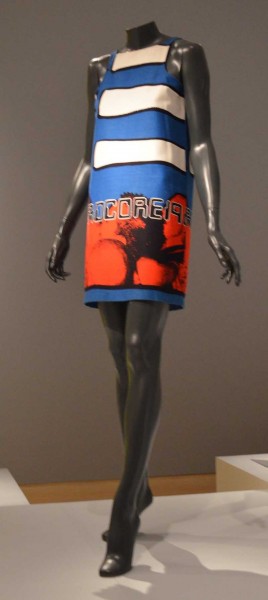 A dress influenced by the American flag was designed by Stephen Sprouse (1953-2004). It is an A-line shift made of cotton twill in red, black, blue, and cream, titled "Burn Out 88."
Sprouse, who was born in Dayton, Ohio, was raised in Columbus, Indiana from the time he was two. At the age of 14 he served a summer apprenticeship with Bill Blass.
When he was 18 he worked for Halston. He brought a creative edge to fashion which Simon Doonan deemed as Punk Couture.
Sprouse's clothes were often worn by rock star Debbie Harry. She wore a silver asymmetrical dress for the Heart of Glass video in 1977. It was made of silk crepe and cotton jersey with images of television scan-lines. He even designed her solo 1986 album, ROCKBIRD.
Sprouse not only experimented with graffiti on his street styles, he also experimented with materials—a noted example is a mini dress and shawl made of gold safety pins and Lycra.
An ensemble that is reminiscent of Rudi Gernreich is embodied in a bright orange and graphic-covered hooded wool dress with matching stockings and boots from 1998.
In 2001 Marc Jacobs, creative director of Louis Vuitton, brought Sprouse in to create a new look—their collaboration resulted in the classic Vuitton graffiti purses.
Featured in the exhibit is a black velvet men's suit with lime green graphics designed by artist Keith Haring (1958-1990). It sports black satin lapels. It is vintage 1988, and the jacket alone can be found for sale on Ebay for $3,999.99 obo.
Sprouse, who had been a three-pack-a-day smoker, died of lung cancer at the age of fifty in 2004. His mother Joanne Sprouse loaned pieces to this exhibit. >>>more>>>
[MARSHA BENTLEY HALE, Ph.D.]
Photos by Marsha Bentley Hale
An American Legacy: Norell, Blass, Halston & Sprouse
May 4, 2012 – January 27, 2012
Indianapolis Museum of Art: Gerald and Dorit Paul Galleries