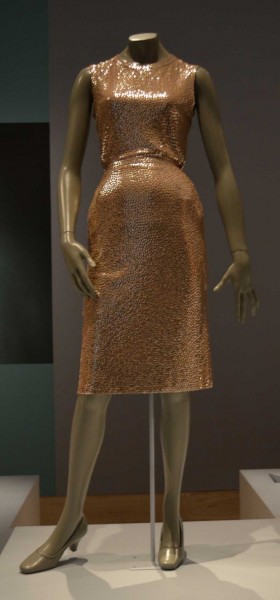 Norman Norell's career spanned more than 50 years. Born Norman David Levinson in Noblesville, Indiana, his father owned a menswear store. He was known for the quality of construction of his designs. In fact even Stephen Sprouse used his tailor.
He was attracted to the world of entertainment and designed costumes for the Ziegfeld Follies, the Cotton Club and eventually film. One film that featured his designs prominently is The Touch of Mink (1962) starring Doris Day and Cary Grant.
In a ploy to seduce the virginal Miss Cathy Timberlake, the mogul Philip Shayne has one of his employees escort her to a private fashion show of Norman Norell designs at Bergdorf Goodman. She is given carte blanche to choose what she wants from the collection for a trip to Bermuda. An emerald green sequined mermaid gown is one of the Norell creations seen on the runway.
After leaving Hattie Carnegie's company, Norell formed a partnership with Anthony Traina in 1941. He came up with the use of non-rationed items during WWII. One design was the close fitted, sequined mermaid dress.
Seen in the exhibit is a short cocktail version of this dress dated 1956. An exquisite black evening dress of Norell's displayed in the exhibit is from fall 1951—hailing from the days of Traina-Norell.
It has a lace-like sleeveless top with a lower layer of silk chiffon cinched at the waist and ostrich feathers decorating the bottom lamp-shaped portion.
This is balanced over a long, black, straight skirt. Ten years later he came out with a short variation—a black evening dress made of Chantilly lace with pleated silk-crepe cinched at the waist with a thin belt, again in a lamp shape, with fox fur as the bottom trim.
Sadly, Norell died of a stroke in 1972, at the time that the Costume Institute was organizing a retrospective of his work at the Metropolitan Museum of Art. >>>more>>>
[MARSHA BENTLEY HALE, Ph.D.]
Photos by Marsha Bentley Hale
An American Legacy: Norell, Blass, Halston & Sprouse
May 4, 2012 – January 27, 2012
Indianapolis Museum of Art: Gerald and Dorit Paul Galleries